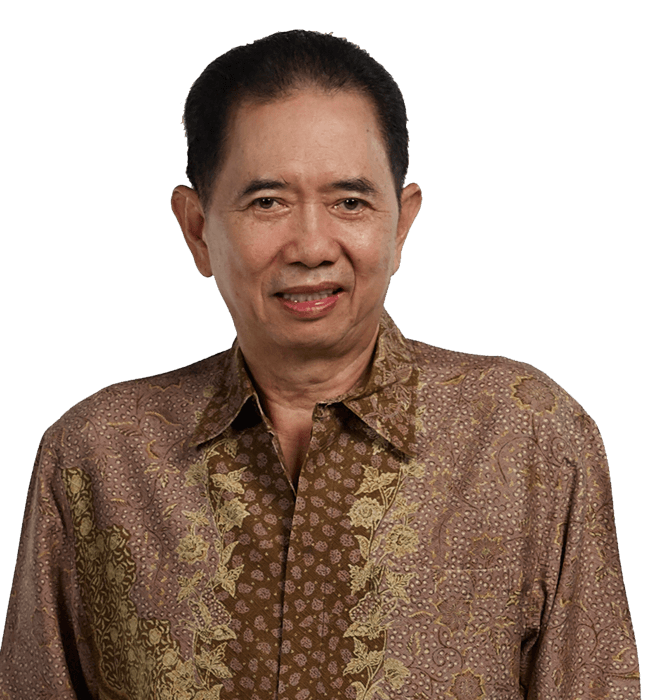 David Hidayat
President Director
Facing unfavorable market conditions as a result of the global economic turmoil, the Company implemented various business strategies focused on performance recovery. As a result, sales performance decreased by 4% and net income decreased by 12% from 2021, but still higher than sales and net income in 2020.
Dear Honored Shareholders,
First of all, let us praise God Almighty for all His blessings, gifts and mercy, so that PT Industri Jamu Dan Farmasi Sido Muncul Tbk ("Company") was able to get through 2022 with a strong spirit to maintain growth. On behalf of the Board of Directors, please allow me to report a summary of the Company's performance for the financial year ended December 31, 2022.
Global economy in 2022 was still in uncertainty. While the world was trying to recover from the prolonged COVID-19 pandemic with the emergence of Omicron variant, the potential for a crisis loomed again because of the Russia-Ukraine conflict.
Russia's invasion of Ukraine since February 24, 2022 subjected Russia to various kinds of economic and non-economic sanctions by Western countries. These sanctions directly affected commodity, energy and food prices since Russia and Ukraine play important roles in the global food and energy supply chain.
Russia-Ukraine conflict and Western sanctions against Russia created a new economic crisis. Supply chain disruptions that caused food and energy commodity prices to rise ultimately pushed global inflation to high levels. On average, the global inflation rate in 2022 reached 8.8%, much higher than 4.7% in 2021, and the highest since the world financial sector crisis in 2008.
A number of central banks, including those in the United States (US), Britain and the European Union (EU), made efforts to contain inflation through tightening monetary policy by raising benchmark interest rates, which in turn put more pressure on the global economy. High inflation due to commodity prices, rising interest rates and financial market volatility caused world economic growth to slow down significantly.
Domestically, Indonesia was still facing the COVID-19 pandemic with the emergence of rampant cases of Omicron variant at the beginning of the year. However, Indonesia was far better prepared in handling the Omicron variant than the Delta variant. The characteristic of Omicron is that it has milder symptoms so it doesn't cause overcrowding in health facilities. Community mobility is not too disturbed either. Most people were more confident about doing activities because they have received the vaccine up to the third dose.
Change in the geopolitical order because of the RussiaUkraine conflict was certainly a major challenge for the national economic recovery. Rising prices for food, industrial raw materials and energy as a result of supply chain disruptions and a potential spike in global inflation put pressure on the domestic food, energy and financial sectors.
Since January 2022, the inflation rate has shown an increasing trend until the end of the year in line with rising world energy and food commodity prices, as well as supply chain disruptions. The rapid increase in inflation was mainly driven by rising prices for food, beverages, and tobacco. As a result, several fast-moving consumer good (FMCG) companies have started to raise their product selling prices amid rising raw material prices.
On September 3, 2022, the government raised fuel prices because the burden of fuel subsidies was increasing. The increase in fuel prices had an impact, especially on the price of basic commodities and transportation costs, thus pushing the inflation rate to a high of 5.95% in September.
In the end, high inflation suppressed people's purchasing power. The increase in the price of basic commodities has had a major impact, especially for the lower middle class economic community. With relatively stagnant incomes, people prioritize meeting basic needs such as food, electricity, and transportation. This resulted in a decrease in sales of non-primary products, including health supplement products.
High inflation affected people's purchasing power as well as rising prices for imported raw material components had an impact on declining sales performance in the second quarter. The Company revised its performance targets and changed its business strategy to focus on recovery in the third and fourth quarters to mitigate further declines.
To encourage sales in domestic market, the Company focused on marketing and promotional programs both offline and online, which consumers experience directly, such as trade promos, product bundling and discounts. The Company increased sales on online channels by optimizing social media as product marketing platform, so that the marketed products could directly raise awareness of the intended target market.
The Company utilizes digital platforms as one of the strategies to reach young consumers who are familiar with social media networks. The Company expands digital marketing contents by collaborating with content creators with the aim of educating Sido Muncul products and increasing brand awareness among young people.
The Company also collaborates with social media influencers, on Youtube, Instagram and Tik-Tok platforms. Currently, the Company already has more than 100 contents with several influencers, with a total of more than 7 million views and good engagement rates on across social media platforms.
To mitigate profitability pressure, the Company focused on selling products with high margins and supported by increased cost efficiency to maintain margins. Cost of Good Sold (COGS) utilization was maintained as effectively as possible, among others by seeking alternative suppliers, especially for imported raw materials, which offered more competitive prices without compromising quality.
In terms of distribution, the Company maintained and ensured product visibility and availability, both at wholesale and retail levels, and continued to increase the number of distribution channels across Indonesia that reached of 156 thousand outlets by the end of 2022.
The Company focused on accelerating the execution of export business initiatives, such as seeking opportunities for new export destinations in countries in the African and Asian regions. The company succeeded in intensifying penetration into new export markets in ECOWAS countries (Economic Community of West African Countries) such as Ghana, Cameroon, and Kenya. In addition, the Company introduced new products such as Tolak Angin Care for the Malaysian market and ESTE EMJE for the Nigerian market, Sido Muncul's two main export markets.
In 2022, the Company launched 7 new products, namely heatiness symptoms relief Alang Sari Cool, Balsam Tolak Angin, RTD (ready-to-drink) Teh Tolak Angin, Jamu Heritage Galian Singset, RTD Sido Muncul Vitamin C1000+D3 & Zinc with 2 flavours: Lemon and Orange, as well as SM Prosta health supplement. These new products are the result of long research supported by thorough market observations and studies to fill market niches and opportunities for today's societal needs. Contribution of New Product Development (NPD) in 2022 reached 2% of the Company's total sales.
Role of Board of Directors in Formulating Strategies and Strategic Policies
The Board of Directors together with the management team formulate business targets, budgets, strategies and strategic policies prior the current year in the form of a work plan and budget (RKA) based on an overview of external and internal conditions. External conditions include projections of economic growth, macroeconomic indicators, social conditions, projected prices of main raw materials as well as market conditions and business competition. Meanwhile, internal conditions include the readiness of human resources, production capacity, and historical sales data.
Furthermore, the Board of Directors presents the RKA to the Board of Commissioners in a joint meeting of the Board of Directors and the Board of Commissioners. The Board of Commissioners provides their views and recommendations as well as their approval.
RKA serves as a guide for divisions and subsidiaries to cascading performance targets, operational planning, and work programs down to the lowest structure in the form of key performance indicators (KPIs) that must be achieved in the financial year.
Process Performed by Board of Directors to Ensure Strategy Implementation
The Board of Directors is involved in the development of strategies and strategic policies, in providing direction for strategy implementation in accordance with corporate goals and targets, in monitoring and ensuring that strategies are executed accordingly, and in evaluating the results of strategy and policy implementation.
The strategies implemented by every business segment are evaluated on a monthly, quarterly and annual basis. In 2022, the Board of Directors held 12 the Board of Direcrtors' meetings, all of which were attended by the Board of Commissioners. At the Board of Directors meeting, each Director and/or related division presented a report on the results of the follow-up to the decisions of the previous meeting, performance achievements, problems faced and market developments, including competitors. The meeting resulted in strategic decisions to address gaps in the achievement of monthly performance.
Market conditions that were not conducive since the second quarter of 2022 as a result of the global economic turmoil have affected the Company's performance. A decline in sales was inevitable, especially as a result of the high inflation in 2022 which affects people's purchasing power, as well as an increase in the price of imported raw material components. Normalization of demand from a high base in 2021 caused by the spread of Delta variant of COVID-19, was also one of the reasons for the sales decreased in 2022.
The Company recorded net sales in 2022 of Rp3.87 trillion, decreased by 3.9% compared to Rp4.02 trillion in 2021.
The decline in sales mainly occurred in Food & Beverage segment, which down 8.5% from Rp1.19 trillion to Rp1.09 trillion. Meanwhile, Herbal Medicine & Supplements segment down 2.2% from Rp2.69 trillion to Rp2.63 trillion. Conversely, Pharmacy segment grew 4.3% from Rp137.15 billion to Rp143.05 billion.
Cost of goods sold decreased by 1.8% from Rp1.73 trillion in 2021 to Rp1.70 trillion in line with the decline in sales performance.
The decline in sales and the increase in raw material prices caused gross profit to decrease by 5.4% from Rp2.29 trillion to Rp2.16 trillion with a gross profit margin decreased from 56.9% to 55.9%.
The company recorded a net income for the year of Rp1.10 trillion, down 12.4% from Rp1.26 trillion in the previous year. Net income margin decreased from 31.4% to 28.6%.
Export performance remained positive and contributing around 4% to total sales. Food & Beverages segment recorded a solid sales trend in export market. The flagship product for export market was Kuku Bima Ener-G! where about 16% sales of Kuku Bima Ener-G! came from export market with strong sales volume in Malaysia and Nigeria.
In 2022, average utilization of the Company's production capacity was 60%. The Company continued to expand to increase capacity by building production facilities or adding new machines, including:
New production facility for ready-to-drink (RTD) products was operational in the third quarter of 2022 with RTD production capacity of 6 million bottles per month for various 150 ml and 300 ml RTD product variants.
Soft capsule production facility increased its capacity to 5 million capsules per month. New engine arrived in the fourth quarter of 2022 and is currently in installation process. The new machine is scheduled to be operational in the first quarter of 2023.
In order to improve energy efficiency and to support sustainable development goals, the Company continues to expand the use of solar panels and chiller absorbers in production units. This efficiency program resulted in savings of up to 16% in electricity costs. Solar panels have been used since May 2022 with a contribution of 2% of the Company's total electricity consumption.
In October 2022, the Company and PLN agreed a purchase of 100% electricity from renewable energy through Renewable Energy Certificate (REC) scheme. The REC is a market-based instrument which certifies that the certificate holder uses one MWh (megawatt hour) of electricity from renewable energy sources.
Hence, the Company affirmed its strong commitment to sustainability. Overall, 86% of the Company's total electrical energy needs came from renewable energy, namely biomass (61%), solar panels (2%) and REC (24%). In addition, with the use of gas (CNG) as a substitute for diesel as boiler fuel, the total environmentally friendly energy sources used by the Company reached 97%.
Comparison of Achievements and Targets
Based on the achievement of 2021 performance, the Company has set a target for sales and net income growth in 2022 of 15% of the 2021 performance. However, in line with the changing market conditions in the second quarter of 2022, the Company revised its performance targets and changed its business strategy to focus on recovery in the third and fourth quarters to mitigate further declines.
The Company focused on quarterly performance, targeted a recovery in the third quarter of 30% of sales and 50% on net income compared to the second quarter.
The actual sales rose 37% with net income increased by 83% in the third quarter compared to the second quarter. Meanwhile for the fourth quarter, the Company targeted a 20% increase in sales and net income compared to the third quarter by continuing the strong recovery. Actual performance in the fourth quarter was above target, with an increase of 25% in sales and 40% in net income after tax compared to the third quarter of 2022.
Thus, on an annual basis, the 2022 performance decreased by 4% in sales from 2021 but was still Rp530 billion higher compared to the 2020 performance. Net income decreased by 12% from the previous year but was Rp171 billion better than the 2020 achievement.
Dividend Distribution
Based on Annual General Meeting of Shareholders (AGMS) held on March 30, 2022, the Shareholders approved to distribute cash dividends amounting to Rp1,136,485,000,000 or Rp38 per share at a pay-out ratio of 90% of the Company's net profit for Financial Year 2021. All dividends were paid to shareholders through distribution of cash interim dividends on August 27, 2021 and final dividends on April 28, 2021.
Challenges Encountered
Global supply chain disruptions that triggered commodity price hikes, pushed up the inflation rate, and caused the depreciation of rupiah exchange rate against US dollar have created volatility in raw material prices, especially for the Food & Beverages segment. Approximately 20% of raw material commodities were indirectly affected by the increase in US dollar exchange rate.
To mitigate the impact on COGS, the Company tried to find alternative suppliers that offer more competitive prices without reducing quality. This effort included exploring opportunities for direct imports from producers to cut distribution channels and middleman costs. However, the selling price adjustment policy could not be avoided. Nevertheless, the Company looked for formula for a reasonable selling price and did not burden consumers' purchasing power.
The Company carried out various initiatives such as maintaining and ensuring product visibility and availability, both at the wholesale and retail levels, continuing to increase the number of distribution channels in remote areas of Indonesia, and improving digital marketing and online sales strategies so that consumers could more easily get the products they needed.
Until now, Tolak Angin and Kuku Bima Ener-G! are still the main products with a significant sales contribution. However, this risks to make the Company's sales performance very dependent on these two main products. Therefore the Company continues to launch new products supported by strong digital marketing strategy.
In 2020, the Company launched 17 new products, in 2021 there were 16 new products, and in 2022 there were 7 new products. As a result, in the last 2 years the contribution of Kuku Bima Ener-G! in the Food & Beverages segment decreased from around 70% to 50% because there were other products that grew higher.
Business Prospect
Global economy in 2023 will still face tough challenges and even the threat of a recession is imminent. Several factors will weigh on global economic growth, starting from tight monetary policies in several countries, the ongoing Russia-Ukraine conflict, high interest rates, soaring inflation due to rising energy and food prices, the threat of a recession, to slowing global trade.
In the midst of global economic turmoil, Indonesia's economy shows good prospects. Bank Indonesia predicts that Indonesia's economic growth in 2023 will remain strong in the range of 4.5-5.3% and will increase to 4.7-5.5% in 2024 supported by private consumption, investment and continued positive export performance amidst slowing global economic growth. Inflation is predicted to decline and return to the target of 3.0 ± 1% in 2023 and 2.5 ± 1% in 2024 in line with the controlled imported inflation with stable Rupiah exchange rate as well as front-loaded, preemptive, and forward-looking monetary policy responses.
Based on the achievement of 2022 performance, in 2023, the Company will continue the performance recovery process. The Company has set a realistic target of sales and net profit of 10% compared to 2022 achievement, with various initiatives and strategies that have been planned and will be executed quickly.
To seize existing opportunities, the Company will carry out initiatives to build strong fundamentals, including increasing production capacity, expanding distribution networks to remote areas throughout the province, expanding export markets, strengthening digital marketing to reach new target consumers, especially the younger generation. millennial and generation Z, and continue to build strong and trusted brand equity and brand awareness in society.
The Board of Directors, the Board of Commissioners and all Company people are committed to implementing Good Corporate Governance (GCG) principles in the management of the Company in accordance with laws and regulations and best practices.
The Company has a mechanism for monitoring and evaluating the quality of GCG implementation, including the Company's compliance with the applicable laws and regulations. This function is carried out by the Internal Audit Unit to provide independent assurance on GCG implementation by the management, as well as the Board of Commissioners through the Audit Committee that assists the Board of Commissioners in supervising compliance with Code of Conduct, policies, the Company Regulations, and the applicable laws and regulations.
The Company contiunes to encourage Sido Muncul people to implement and elaborate the corporate values (SIDO Values) with the highest standards in every business process. To improve ethical standards and integrity, the Company routinely conducts socialization to all Sido Muncul personnel and related stakeholders regarding the corporate policies in order to create a healthy, transparent, productive, harmonious, respectful and mutually beneficial working relationship.
There were no changes in composition of the Board of Directors in 2022.
On behalf of the Board of Directors, I would like to thank the Shareholders for their support, the Board of Commissioners for their supervision and advice which has helped the Company head in the right direction towards achieving its vision, and to all the Company's employees who have worked hard with dedication and integrity. The Company expects to continue to optimally deliver benefit to shareholders, employees, business partners, customers, and the wider public.