Supply chain describes the series of interactions between the Company's operations and the activities of suppliers at each significant operational stage, both directly and indirectly, in providing goods and services routinely for the Company to subsequently provide products and services to customers. The quality of the goods of the suppliers has a significant impact on the performance and reputation of the Company.
Sido Muncul implements supply chain management to ensure that goods and services originating from suppliers meet the required specifications and quality standards so that the Company can consistently produce the best products for customers. Good supply chain management contributes to cost efficiency.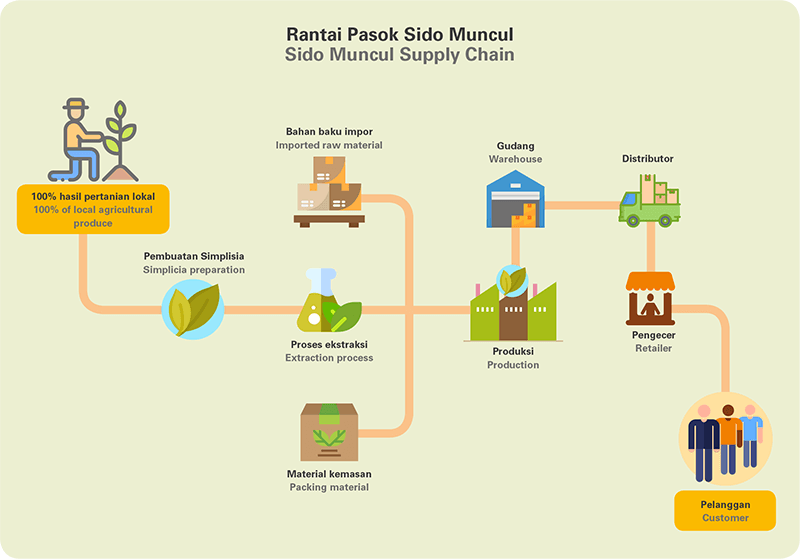 Main Material Type
The main materials used to produce Sido Muncul products are:
Simplicia raw materials (turmeric, fennel, cloves, etc.)
Non-simplicia raw materials (milk, sugar, vitamins, etc.)
Packaging (plastic, carton, aluminum foil, etc.)
General goods (stationery, laboratory equipment, chairs, tables, etc.)
Engine and engine spareparts.
100% Raw Materials From Local Suppliers
The herbs and herbal medicine industry is one of the few industries that uses original Indonesian raw materials. Various types of medicinal plants are available abundantly as Indonesia's biodiversity. There are about 30 thousand types of spice plants, of which 350 types have long been recognized and used as the main ingredient in making herbs and herbal medicines. At present only around 500 herbal medicine materials have been licensed by the Food and Drug Supervisory Agency (BPOM).
The use of raw materials from local suppliers provides many advantages such as delivery time and ease in monitoring the quality of raw materials from supplier's location. On the other hand, Sido Muncul's business activities have had an economic impact on community groups, including small and medium-sized businesses, women and marginalized groups as part of the suppliers of raw materials for the Company.
To ensure continuity in volume and quality of raw materials (simplicia) originating from agricultural products, Sido Muncul has formed a partnership with spice farmers who are part of the Company's supply chain. Sido Muncul fosters and assists spice farmers to mitigate the risk of volatility in the supply chain of raw materials for long-term business sustainability.
Simplicia raw materials such as turmeric, curcuma, ginger and others are obtained from Java, Sumatra, Kalimantan, West Nusa Tenggara and Papua. While non-simplicia raw materials obtained from importer companies and also come from local suppliers in the Java and Lampung regions.
For certain simplicia and non-simplicia raw materials that are not available in Indonesia such as red ginseng, vitamins, creamer, taurine, citridic acid, sodium bicarbonate and others are obtained from importer companies, while the flavor is already available from domestic production, although the flavor raw material used is partly imported material such as Swiss Chocolate, Luxarom and others.
Supplier Evaluation
To ensure consistency in the quality of goods and services supplied, Sido Muncul has standard procedures for valuation, auditing and supplier coaching.
Supplier guidance is mainly carried out for simplicia suppliers by conducting regular visits to the suppliers location. The Company conducts a sampling audit of suppliers of simplicia, non simplicia and packaging material suppliers. Audit results are notified to suppliers to be followed up. Evaluations are carried out annually on all suppliers. The results of the evaluation are submitted to the supplier and become the basis for determining the continuity of the cooperative relationship.