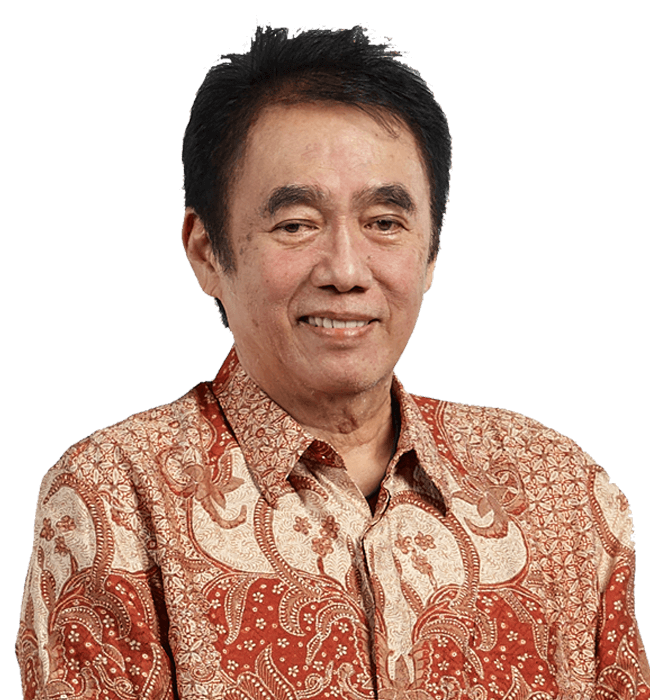 Jonatha Sofjan Hidajat
President Commissioner
Board of Directors successfully take advantage of market opportunities by launching new products that suit consumer needs, expanding distribution networks to reach remote areas of the country and strengthening digital sales platforms to be closer to consumers and to expand unlimited new market coverage.
Dear Honored Shareholders,
We would like to praise God Almighty for His mercy and grace. Hereby we deliver the supervisory report of Board of Commissioners regarding the development and management of PT Industri Jamu Dan Farmasi Sido Muncul Tbk (the "Company") for the financial year ended December 31, 2021.
It is an honor for us to report that in the midst of the unrecovered economic conditions and the increasingly fierce competition, the Company was able to achieve impressive performance growth. The Company successfully managed various challenges and optimized opportunities in 2021.
The year 2021 started with strong optimism that the pandemic will soon be over. The Covid-19 vaccine raised hope that conditions in the future would be better. The national vaccination program started on January 13, 2021. According to the government's plan, the vaccination program will take 15 months with a target of 181 million Indonesian people. It is not easy to reach the target across regions given Indonesia's geographic conditions. It takes time to reach a certain ratio to population in order to achieve herd immunity.
Nonetheless, unfortunately, the world was hit again by the Delta variant of Covid-19, which had an extremely high transmission and death rates. Indonesia experienced a second wave with a very dramatic escalation of infection cases. In July 2021, Indonesia became the epicenter of Covid-19 with the highest death toll in the world reaching 2,069 people on July 27, 2021.
This reminded all of us that Covid-19 would not end anytime soon. Although towards the end of 2021 the transmission rate of Covid-19 in Indonesia continued to decline, this disease has not completely disappeared. The spread of Covid-19 is at risk of rising again along with the increased mobility and the loosening of health protocols.
One interesting thing is the change in people's behavior during the pandemic. Covid 19 has formed a new paradigm in society regarding the importance of maintaining health. People are becoming more aware of living a healthier lifestyle. They try to boost immune system by exercising, eating nutritious foods and taking vitamins and health supplements. The demand for vitamins and health supplements, especially those made from natural herbal ingredients, shows a remarkable increasing trend.
Board of Commissioners appreciates the achievement of excellent performance in 2021. Board of Directors successfully managed to maintain sustainable business growth by achieving sales that exceeded targets in all business segments. The Company moved swiftly to take advantage of market opportunities by launching new products that suit consumer needs, expanding distribution networks to reach remote areas of the country and strengthening digital sales platforms to be closer to consumers and to expand unlimited new market coverage.
In 2021, the Company recorded net sales of Rp4.02 trillion, grew by 20.6% from Rp3.34 trillion in 2020. This growth was driven by strong demand from Herbal & Supplements segment which grew by 21.3% from Rp2.22 trillion in 2020 to Rp2.69 trillion and Food & Beverages segment which grew by 18.3% from Rp1.01 trillion in 2020 to Rp1.19 trillion. Meanwhile, Pharmacy segment also recorded a significant growth in percentage at 26.5% from Rp108.43 billion in 2020 to Rp137.15 billion. This achievement was supported by a comprehensive marketing strategy and an optimized production capacity to meet the increasing market demand.
The Company earned a net income of Rp1.26 trillion, grew by 35.0% from Rp934.02 billion in 2020. Net income margin increased from 28.0% in 2020 to 31.4%. The increase in net income margin showcased the success of the Company in carrying out sustainable efficiency in all lines of operations. This was also implied by the cost of goods sold which only increased by 15.9%, smaller than the percentage of sales growth.
On non-financial aspect, Board of Commissioners also noted a number of achievements that deserve appreciation. The Company's strong commitment to environmental management was rewarded Gold PROPER Award of the Ministry of Environment and Forestry Republic of Indonesia for the second time and Level 5 Green Industry Award of the Ministry of Industry Republic of Indonesia for the fourth time.
Board of Commissioners performed supervisory and advisory functions based on the Articles of Association and BOC Manual. In performing our duties, Board of Commissioners is assisted by committees as supporting organs for Board of Commissioners, namely Audit Committee and Nomination and Remuneration Committee.
The supervisory and advisory functions of Board of Commissioners are mainly performed in coordination meetings with Board of Directors to monitor performance periodically. During 2021, Board of Commissioners held 13 meetings, 12 of which were coordination meetings with Board of Directors.
In the coordination meeting forum, Board of Directors clearly explained the work plans, strategies and initiatives to be implemented in 2021. Board of Commissioners actively conveyed insights and recommendations according to our respective functions and capacities.
Board of Commissioners supports the efforts of Board of Directors to continue to develop traditional and herbal medicines by utilizing natural resources in Indonesia. Indonesia has a biodiversity of no less than 40,000 plants, 7,500 medicinal plants with 1,300 species identified. This abundance is the potential as well as the main capital for the development of traditional and herbal medicines.
Board of Directors has mentioned that the Company is building a green house facility to develop superior seeds of medicinal plants on a mass and sustainable scale. Breeding medicinal plants, in addition to securing availability of superior seeds as raw materials, also aims to preserve rare medicinal plants to be cultivated by farmers.
Every month, Board of Commissioners together with Board of Directors evaluate the operational and financial performance achievements of the previous month, problems encountered and the respective solutions, as well as the next development plan. Board of Commissioners also monitors the effectiveness of internal control, risk management and good corporate governance implementation.
Communication between Board of Commissioners and Board of Directors is not only carried out through coordination meeting forums, but also through informal communication in the form of telephone, video conference, or electronic mail. Through intensive communication between Board of Commissioners and Board of Directors, Board of Directors can immediately report the latest developments regarding strategy implementation and Board of Commissioners provides guidance and opinions, so that Board of Directors can make decisions based on a comprehensive perspective.
Herbal Medicine Association (GP Jamu) believes that herbal medicine industry will remain prospective in 2022. The overall herbal medicine sales figure will grow by approximately 10% in line with the increasing public awareness of the health benefits of herbal medicine. People tend to choose to consume herbs and traditional medicines as a preventive measure during the pandemic. This paradigm will continue in the future even after the pandemic is over.
Board of Directors submitted 2022 business plan with moderate growth targets. Board of Commissioners believes that Board of Directors is able to realize the strategy to achieve these targets. The Company's strength is research and development that continues to produce scientificallybased innovative products that can be accounted for. With that strength, Sido Muncul products are able to penetrate the millennial and Z generation markets, who are critical in choosing the intake of vitamins and supplements they consume.
Considering the increasingly fierce competition in the herbal and pharmaceutical industry as well as market uncertainty due to the ongoing Covid-19 pandemic, Board of Commissioners has provided insights to Board of Directors as follows:
To design the right marketing strategy by mapping its main competitors who have similar products and to build a market research team in order to monitor their movements.
To map positioning of each product to obtain a clearer picture of which products are promising to become cash cows in the future as a basis for designing better product development and marketing strategies.
To evaluate the export market and focus on a progressive purchasing rate.
To develop the production of medicinal raw materials which are currently still imported.
In addition, Board of Commissioners reminded Board of Directors to ensure that the Company's activities always run according to strict health protocols, continue to improve efficiency, give emphasis to occupational health and safety aspects and run the business by upholding SIDO values.
Board of Commissioners and Board of Directors are strongly committed to implementing and upholding the principles of Good Corporate Governance (GCG). The consistent implementation of GCG is an important part of all of the Company's business processes. Board of Commissioners considers that the Company implements GCG satisfactorily. The Company has guidelines and GCG policies in place that are comprehensive and continuously updated from time to time. Nonetheless, surely there is always room for improvement to increase the quality of GCG implementation.
In the view of Board of Commissioners, internal financial and operational control system implemented in the Company is quite effective, transparent and accountable. However, it is still necessary to improve SOP in order to increase the effectiveness of internal control. Board of Commissioners through Audit Committee will assign Internal Audit Unit to evaluate all SOP related to internal control system.
Annual GMS on March 31, 2021 approved the appointment of Mr. Segara Utama, Mrs. Lindawati Gani and Mr. dr. Mohammad Adib Khumaidi as Independent Commissioners of the Company starting from the closing of the GMS until the closing of the Company's Annual GMS which will be held in 2022.
Extraordinary GMS on December 15, 2020 approved the resignation of Mr. Young-Tae Park and Mr. Eric Marnandus from their positions as Commissioners of the Company. Hence, the composition of Board of Commissioners of the Company as of December 31, 2021 is as follows:
| | |
| --- | --- |
| Name | Position |
| Jonatha Sofjan Hidajat | President Commissioner |
| Johan Hidayat | Commissioner |
| Sigit Hartojo Hadi Santoso | Commissioner |
| Segara Utama | Independent Commissioner |
| Lindawati Gani | Independent Commissioner |
| Dokter Mohammad Adib Khumaidi | Independent Commissioner |
Finally, on behalf of Board of Commissioners, I would like to extend my gratitude to the shareholders and all stakeholders for their support and trust. My sincere appreciation goes to Board of Directors and all employees who have shown their hard work, loyalty and dedication for the Company's success. Hopefully, the Company can continue to provide the best benefits to the shareholders, customers, business partners and all stakeholders in the future.