WHISTLEBLOWING SYSTEM
In the context of implementing good corporate governance so that the Company can continue to increase value for all stakeholders, the Company has implemented Whistleblowing System (WBS). WBS provides a means for anyone to report any allegations of illegal, immoral behavior or other illegal practices within the Company.
Information can be reported through the WBS includes:
Fraud, fraud, corruption, collusion/bribery, extortion,
Violation of law, the Company's Code of Ethics, Company Regulations and applicable Operating Procedure (SOP) standards,
Violation of ethics, and
Other violations that could potentially harm the Company.
Whistleblowing Submission
The whistleblower (internal or external) is required to submit a clear and accountable report to be proven, considering the following matters:
To mention the reported violation briefly and clearly;
To mention the name and work unit of the reported and involved persons;
To state the clear timing and place of the violation;
To state the clear and complete chronology of the events, if necessary, to attach evidence of violation to accelerate investigation.
Submission of violation report can be submitted through:
Telephone/SMS /WhatsApp: 0812-1500-0135
Email: compliance.officer@sidomuncul.co.id
Whistleblower Protection
The Company, in this case Internal Audit Unit, as the managing party of WBS guarantees whistleblower protection as follows:
Whistleblower identity (name, address, phone number, fax, email, work unit and others) is kept confidential. Communication with the whistleblower uses external email (not pln.co.id email);
Protection from reprisals from the reported person/institution;
Protection from internal measures, such as:

Pressure;
Delay in promotion;
Employment termination;
Lawsuit;
Seizure or physical action;
Whistleblowing Handling and Parties Managing Complaints
The person in charge of the Whistleblowing System is the Internal Audit Unit. The mechanism for delivering and handling of Whistleblowing is as follows:
Handling Mechanism of Whistleblowing System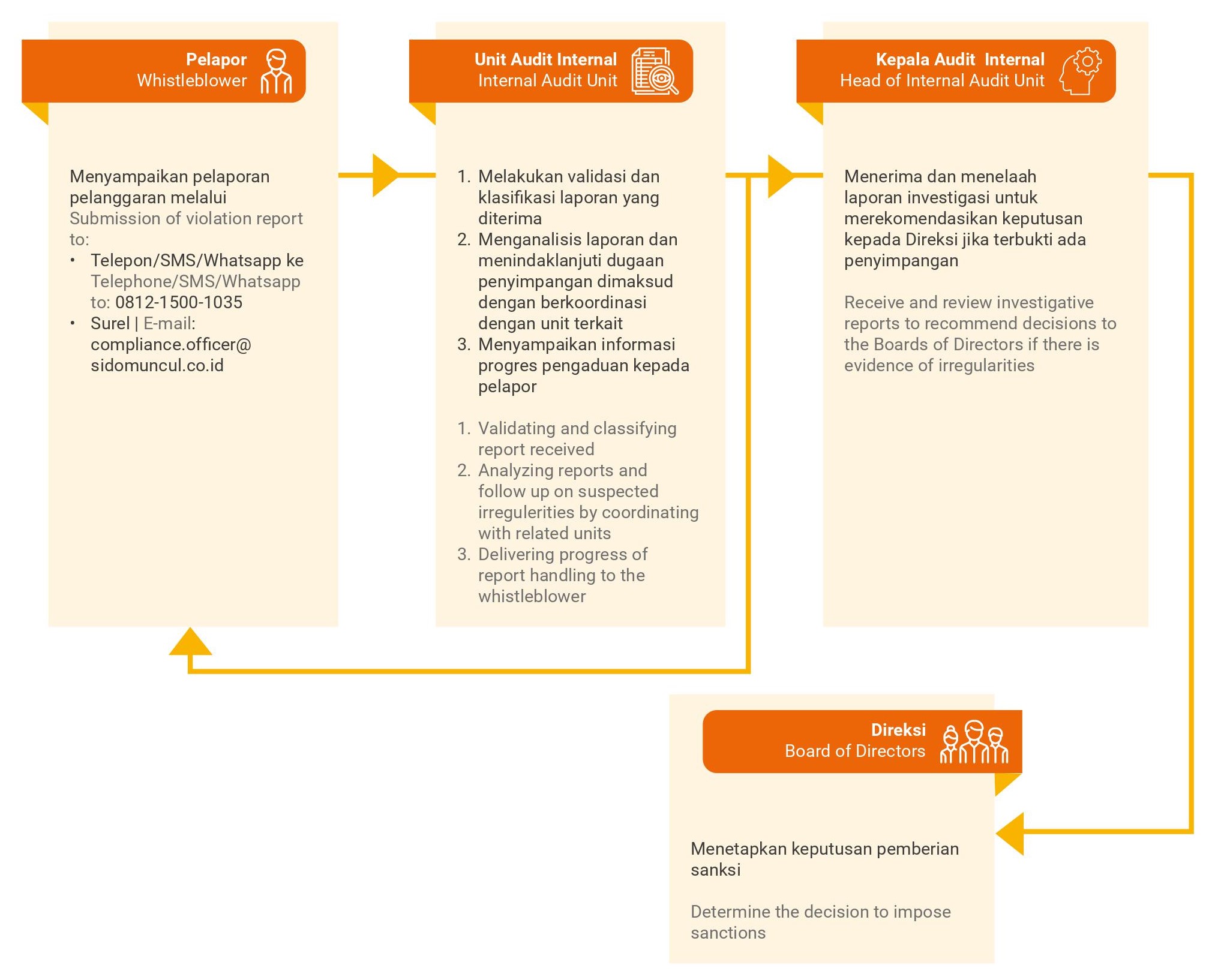 Each incoming complaint will be managed by Internal Audit Unit for further action. In following up on violation report, Internal Audit Unit can also coordinate with other relevant units. With regard to protection for whistleblower, the Company guarantees the confidentiality of information and identities and provides protection for whistleblower.
Whistleblowing Received and Resolved in 2021
During 2021, there was no reporting of violations through WBS.