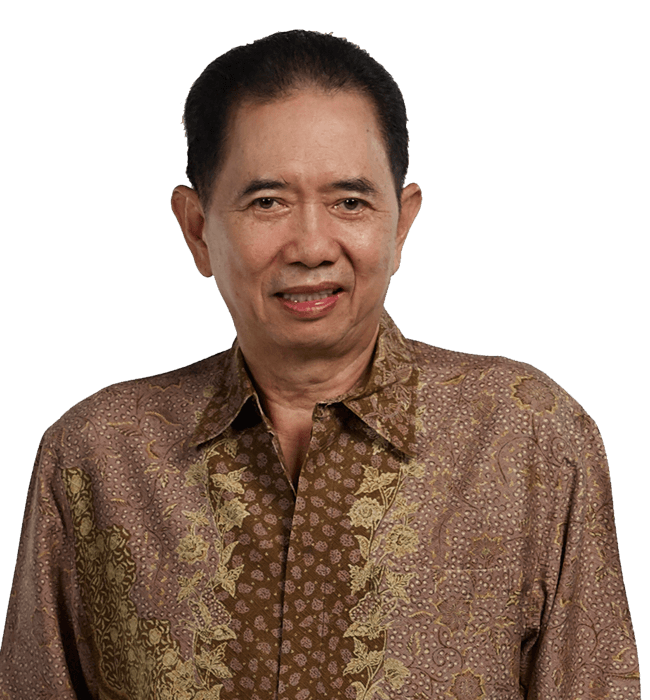 David Hidayat
President Director
In the midst of market conditions that were still affected by the pandemic, the Company's performance successfully exceeded the targets with sales grew by 21% and net income grew by 35%.
Dear Honored Shareholders,
We would like to praise God Almighty, because of His mercy and grace, PT Industri Jamu Dan Farmasi Sido Muncul Tbk. ("the Company") could go through the year 2021 with remarkable achievements. With the support of the hard work of all employees of the Company and subsidiaries, the Company was able to record performance that exceeded the targets and to strengthen its position as a market leader in the national herbal and pharmaceutical industry.
On behalf of Board of Directors, please allow me to report a summary of the Company's performance for the financial year ended 31 December 2021.
Continuing the trend of recovery since the third quarter of 2020, entering 2021, the economic growth continued to increase and reach 7.07% (yoy) in the second quarter of 2021. Indonesian economy managed to return to the positive zone, after the last few quarters being in the negative zone due to recessionary pressures. This achievement was also the highest growth in the last 17 years. Public consumption started to rise, driven by massive vaccination program and the easing of social restrictions. Public activities were gradually returning to normal despite a number of restrictions and the implementation of health protocols.
Nevertheless, in July-August 2021, Indonesia was hit by the second wave of Covid-19, the Delta variant. The surge in Covid-19 cases was unstoppable after the Eid holiday. The government implemented a strict implementation of emergency public activity restriction (PPKM) to prevent the spread of the Covid-19 virus. Emergency PPKM policy was unavoidable so that hospitals were not paralyzed due to excess capacity. After the emergency PPKM was implemented, the number of cases and the percentage of hospital bed occupancy ratio (BOR) was shown to have decreased.
The second wave of Covid-19 and PPKM had an impact on economic growth in the third quarter which slowed to 3.51% although it was still in the positive zone. The government's priority was to prioritize public safety and health. After the number of infected cases continued to decline, the government began to ease gradually. Some of the activities allowed to open with strict health protocols were traditional markets selling basic necessities, street vendors, grocery stores and other micro, small and medium enterprises (MSME).
Consumption indicators started to show improvement. Public spending showed an acceleration towards its level in the pre-pandemic period. The success of controlling the pandemic after the spread of Delta variant convinced the public to return to their activities and the business world began to expand. The Central Statistics Agency (BPS) announced that economic growth in the fourth quarter rose again by 5.02% (yoy). Thus, cumulatively, domestic economic growth in 2021 would be 3.69% (yoy). The dynamics of economic growth implied that health recovery is a key factor in economic recovery.
Almost 2 years living with the Covid-19 pandemic, public interest in consuming herbs and herbal medicines is getting higher. People are increasingly aware of living a healthy lifestyle, including by consuming medicines and supplements that can increase immunity, especially herbal products. The main reason for choosing herbal products is because they use natural raw materials that have no side effects.
Sales of herbal and pharmaceutical products for immunity increase significantly during the pandemic. People believe that herbal medicine can increase the body's immune system against viruses in the midst of a surge in Covid-19 cases. The products that are most sought after by the public are products made from spices, such as: ginger, lemongrass, turmeric, temulawak and other natural ingredients.
Based on BPS data, the chemical, pharmaceutical and traditional medicine industries sectors continued to experience high growth driven by the traditional medicine subsector. From the first quarter to the third quarter of 2021, the chemical, pharmaceutical and traditional medicine industries grew by 11.46%, 9.15% and 9.71% (yoy), respectively. There was a slowdown in the second quarter as a result of the spike in Covid-19 cases and the implementation of PPKM. However, the sales rebounded in the third quarter.
The high demand for immune supplements encouraged the growth of herbal and pharmacetutical industry. Not only big producers seize the opportunities, but also herbal MSME. A number of new products claiming efficacy to boost immune system have emerged. Many herbal and pharmaceutical manufacturers apply for permits to distribute their new products to Badan POM.
The increased public awareness to maintain health and to live a healthy lifestyle during the pandemic has brought positive catalysts for the Company to increase the availability of herbal products, food supplements and vitamins.
The Company was agile in executing strategies to overcome challenges and to optimize opportunities. The Company set a sales growth target of above 15% and net income growth of above 25% through 4 strategic focuses, including:
Optimizing domestic distribution and product diversification.
Focusing on export recovery and expansion.
Strengthening digital presence on online platforms and marketplaces.
Maintaining margins and improving business processes.
The main focus of the Company was to maximize the potential of the domestic market through product diversification. As a result, new products launched in 2020 and 2021 were able to contribute approximately 4% of total consolidated sales. This indicated good market acceptance of the Company's new products.
In addition, the Company continued to improve the quality of the distribution system to make it easier for consumers to get Sido Muncul products at modern trade, online sales and general trade. In 2021, the Company increased the number of wholesalers and retailers to reach 135 thousand spread throughout Indonesia. The Company's target is to penetrate deeper into the second and third tier cities and to increase product availability and visibility in each store.
Role of Board of Directors in Formulating Strategies and Strategic Policies
Board of Directors together with the management team formulate business targets, budgets, strategies and strategic policies in the form of a work plan and budget (RKA) based on an overview of external and internal conditions. External conditions include projections of economic growth, macroeconomic indicators, social conditions, projected prices of main raw materials as well as market conditions and business competition. Meanwhile, internal conditions include the readiness of human resources, production capacity and historical sales data. Furthermore, Board of Directors presents the RKA to Board of Commissioners in a joint meeting of Board of Directors and Board of Commissioners. Board of Commissioners provides their views and recommendations as well as their approval.
In order to meet the business targets that have been set, the management team determines the work plans of each division as cascaded strategic goals.
Process Performed by Board of Directors to Ensure Strategy Implementation
In 2021, Board of Directors held 12 monthly meetings, all of which were attended by Board of Commissioners. At the Board of Directors meeting, each Director and/or related division presented a report on the results of the followup to the decisions of the previous meeting, performance achievements, problems faced and market developments, including competitors. The meeting resulted in strategic decisions to address gaps in the achievement of monthly performance.
Financial Performance
In the midst of market conditions that were still affected by the pandemic, the Company was able to record doubledigit net sales growth of 20.6% from Rp3.34 trillion in 2020 to Rp4.02 trillion.
This growth was driven by strong demand from Herbal & Supplements segment which grew by 21.3% from Rp2.22 trillion in 2020 to Rp2.69 trillion and Food & Beverages segment which grew by 18.3% from Rp1.01 trillion in 2020 to Rp1.19 trillion. Meanwhile, Pharmacy segment also recorded a significant growth in percentage, which was 26.5% from Rp108.43 billion in 2020 to Rp137.15 billion.
Cost of goods sold increased by 15.9% from Rp1.50 trillion in 2020 to Rp1.73 trillion in line with the sales growth. The success of the Company in implementing efficiency in all lines was reflected in the percentage growth in cost of goods sold which was smaller than the percentage growth in sales.
Efficiency efforts resulted in a 24.3% increase in gross profit from Rp1.84 trillion to Rp2.29 trillion with a gross profit margin that increased from 55.1% to 56.9%. The Company managed to record a net income of Rp1.26 trillion, grew by 35.0% from 934.02 billion in the previous year with net income margin increasing from 28.0% to 31.4%.
Domestic Market
The Company's ability to adapt quickly in the face of dynamic conditions has succeeded in maintaining consistent growth in the domestic market. Tolak Angin products led the growth of Herbal & Supplements segment of 21.3%. Meanwhile, Food & Beverages segment grew by 18.3% compared to 2020.
Vitamin C powder drink, Sido Muncul C-1000, recorded a growth of more than 150% compared to the previous year. In modern trade, Sido Muncul's C-1000 product ranked the fifth in the category of vitamins or supplement products for adults. The Company sought to increase market share in this category by launching Sido Muncul Vitamin C 1000mg + Zinc RTD (ready-to-drink) variant with the most complete formulation compared to competing products.
The demand for ginger-based health drinks also increases during the pandemic and becomes the number one product for the traditional or warm drink category in modern trade. In total, the health drink category contributed 50% of sales in Food & Beverages segment in 2021.
Export Market
The Company focused on the momentum of recovering export sales performance in Nigeria, Malaysia and the Philippines. International business performance contributed 4% of total consolidated sales. PT Semarang Herbal Indo Plant, subsidiaries of the Company exported 61 tons of patchouli essential oil to France, followed by ginger essential oil exports to several Southeast Asian countries.
Digital Market
The COVID-19 pandemic has changed people's consumption patterns, including the way they shop. Onlinebased services are increasingly in demand supported by advances in digital technology. Apart from being much more practical, shopping online through an e-commerce platform is safer because consumers don't have to travel and have physical contact with many people and make transactions easier.
The Company utilizes online platforms to get closer to consumers and to expand the unlimited new markets coverage. In addition to building our own online store (www.sidomunculstore.com), the Company also entered into available e-commerce applications. To date, the Company has collaborated with more than 25 e-commerce marketplaces, including: Tokopedia, Shopee, Lazada, Bukalapak, Blibli, JD.id, Good Doctor and Zalora.
New Products
In 2021, the Company launched 11 new product variants. The strategy of diversification with new product development resulted in excellent sales growth and built strong fundamentals for the future. Sales of new products grew by more than 175% (yoy) supported by strong sales performance from Sido Muncul C-1000 sweet orange variant and new supplement products (soft gel, JSH, Sambilito and others). By the end of the year, new products contributed 4% of total consolidated sales.
Efficiency
The Company continued to innovate to improve efficiency in the production and support processes. Since 2020, the Company has gradually replaced electric chillers in production units with absorber systems that are more efficient because they can utilize heat from boiler combustion. In 2021, the chiller absorber was also used in the production unit of Effervescent Powder, Tolak Angin 1, Instant Powder and pharmaceutical preparations. In total, by replacing the chiller machine, the Company achieved an efficiency of electricity consumption of 12%.
To increase efficiency in beverage production, the Company installed and prepared to move production facilities for 150 ml products (Vitamin C 1000mg + Zinc, Herbal Heritage, Tejamu and so on) and 300 ml products (RTD KBE and RTD Sporty) from RTD 1 to RTD 2. When fully operational, the production capacity for 150 ml beverage products will increase from 1.5 million bottles to 5 million bottles with the potential to reduce production costs due to using more efficient machines.
At end of the year, the Company has completed the installation of PLTS Roof with a capacity of 2,000 kWp which was installed in all factory buildings. Its operation still has to wait for the issuance of an operating permit from PLN. The use of Rooftop solar panel will reduce the Company's electricity consumption costs in the future. More importantly, by using electricity from renewable energy sources, the Company contributes to the reduction of carbon emissions and strengthens its commitment as a company that cares about the environment.
At the beginning of 2021, the Company set a sales and net income growth targets of above 10% e. Furthermore, based on the realization of the extraordinary mid-year performance, the Company revised its sales growth target to 15% and net income to 25%. At the end of 2021, the Company's performance successfully exceeded the targets with sales grew by 21% and net income grew by 35%.
In Annual GMS on March 31, 2021, shareholders agreed to distribute cash dividends to shareholders from 2020 net income of Rp934 billion or Rp31.4 per share with a payout ratio of 100%. All dividends were paid to shareholders through distribution of interim dividends in November 2020 and final dividends in April 2021.
In 2021, the Company distributed bonus shares derived from treasury shares to shareholders with a ratio of 131:1 or every 131 shares ownership shall get 1 bonus share. The total bonus shares distributed were 227 million shares. The decision to distribute bonus shares is in line with the Company's commitment to redistribute the proceeds from the share buyback.
Potential market opportunities for herbal and pharmaceuticals, especially for products that can boost immunity, make business competition even tighter. The Company is not only facing competitors from fellow herbal medicine companies, but also non-herbal medicine companies, including pharmaceutical companies that have started to produce traditional medicines. To deal with this, the Company continues to carry out continuous research and development to produce innovative products that are not only herbal-based, but also pharmaceutical-based.
We believe that consumer needs continue to evolve from generation to generation. Currently, the potential consumers are millennials and Generation Z who have better education level and are well paid. Generally, they have busy schedule and high mobility so that their diet does not pay attention to the intake of nutrients that contain natural vitamins and minerals. Supplement products will be their mainstay to meet their daily nutritional needs.
The Company has prepared future products aimed at maintaining health and increasing immune system. By using modern technology machines, the Company is able to develop soft capsule products for people who want to enjoy the benefits of drinking herbal medicine in a different format.
Indonesia is more optimistic in welcoming 2022. The Covid-19 pandemic as the root of multidimensional crisis is indicated to be more controlled. Vaccination that continues to increase in scope has proven to be the best effort combined with the implementation of strict health protocols. The national economy has also started to improve. Economic indicators appear to be running positively. The government projects economic growth of 5.2% - 5.5% in 2022.
Given the achievements in 2021, the Company believes that there are good business prospects in 2022 and the years to come. The Company will continue to innovate to produce new products that meet consumer needs. The Company targets growth of above 15% in both sales and net income in 2022, with various strategies and initiatives that have been planned and will be executed immediately.
Based on research data, the herbal medicine industry market will still grow at a CAGR of 10% - 12% in the next 5 years. Vitamin and supplement industry will also continue to grow at a CAGR of 10% - 11% in the next 5 years. This makes the herbal, vitamin and supplement industry a big category in consumer health segment.
The Company began to take the essential oil business more seriously. The opportunity for essential oil exports is quite large, considering that exports from Indonesia for essential oils are estimated to reach Rp2.5 trillion to Rp3 trillion per year. The Company has long experience in producing essential oils because one of the initial stages in making liquid herbal medicine is the extraction process of raw materials to get the essences. The same extraction process is also carried out to produce essential oils.
Extensive experience, supported by production facilities with modern technology and large capacity at a subsidiary, PT Semarang Herbal Indoplant, makes the Company optimistic that it can expand into the essential oil business and become one of the big players in this industry in the next few years.
Good corporate governance (GCG) in the Company is essentially the application of the noble values inherited by the founders. These values have become the basic philosophy of Sido Muncul in running a business that upholds integrity, responsibility and compliance with the laws and regulations and prioritizes the interests of stakeholders, the community and the surrounding environment.
The Company always encourages Sido Muncul personnel to implement and elaborate the corporate values (SIDO Values) with the highest standards in every business process. To improve ethical standards and integrity, the Company routinely conducts socialization to all Sido Muncul personnel and related stakeholders regarding the corporate policies in order to create a healthy, transparent, productive, harmonious, respectful and mutually beneficial working relationship.
In 2021, the Company reviewed and updated Corporate Governance Guidelines which consist of Code of Conduct, BOD and BOC Manuals, Anti-Bribery and Anti-Corruption Policies and Whistleblowing System Mechanism. The guidelines act as a set of rules and policies that include a supervisory and control system to support work ethics and responsible decision making, business integrity and ethical relationship between stakeholders and the Company.
The Company is committed to always complying with statutory provisions and supporting the Government of Indonesia in eradicating corruption. Therefore, the Company established Anti-Bribery and Anti-Corruption Policy that applies to all Sido Muncul personnel without exception.
Board of Commissioners, Board of Directors and all employees are required to ensure that the Company's activities and business, including those involving business partners, government institutions and other stakeholders, are protected from acts of corruption as defined in the Corruption Eradication Act (UU Tipikor), which are related to activities of 1) harming state finances, 2) bribery, 3) embezzlement, 4) extortion, 5) fraud, 6) conflict of interest and 7) gratification.
There were no changes in composition of Board of Directors in 2021.
The year 2021 was the 70th year Sido Muncul thriving in the herbal and pharmacetutical industry. It is an honor for us to be able to take part in bringing this company to its platinum age with a number of remarkable achievements.
On behalf of Board of Directors, first of all, I would like to express my greetings and sincere appreciation to our loyal customers who have given us the opportunity to fulfill their needs in maintaining health and fitness. Consumers are our main force that motivates us to continue to grow. In line with the philosophy that we have implemented since 70 years ago, we always maintain good relationships with consumers. Listening and understanding consumer input is very important. Every criticism is an inspiration for us to improve the quality of our products.
Secondly, I would also like to express our gratitude to the shareholders for their trust in Sido Muncul. Your support is a strong foundation for the Company to continue to grow and provide values to shareholders. It is important for us to fulfill our commitments to our shareholders and to conduct business with integrity in order to maintain your trust.
Thirdly, I would like to thank Board of Commissioners, for their support, guidance and advice so far so that the management of the Company is always in the right direction to achieve its vision and to provide optimal values to shareholders.
Finally, I extend my sincere appreciation to all Sido Muncul employees, both active and retired, for their dedication and loyalty in raising Sido Muncul to date. All of your contributions have brought Sido Muncul to become one of the modern herbs and herbal medicines industry. We hope that every step we take can provide the best benefit to all stakeholders.