PT Industri Jamu Dan Farmasi Sido Muncul received the "PROPER Emas" designation in the Corporate Performance Appraisal Programme 2020 (Program Penilaian Peringkat Kinerja Perusahaan, "PROPER") from the Ministry of Environment and Forestry. The award was presented by Siti Nurbaya, the Minister of Environment and Forestry to Hadi Haryanto, Sido Muncul's Plant Manager on Monday, 14/12/2020.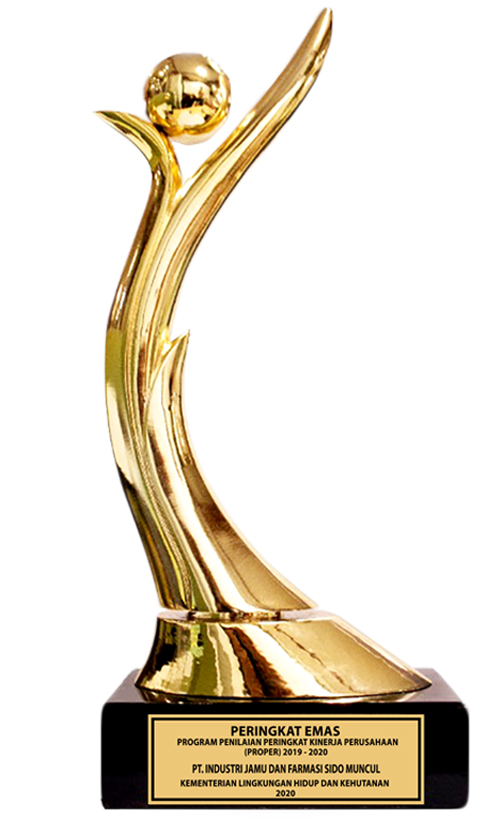 Prior to receiving this award, Sido Muncul has received PROPER Hijau for four consecutive years since 2016. Sido Muncul received the PROPER Emas 2020 thanks to the following:
Internal activities – Production:

Improving energy efficiency by switching to absorption chillers from conventional chillers
Reducing exhaust emissions
Improving water efficiency through technology and engineering by inventing the herbal steam chamber
Reducing pollutant load in water by deploying high-speed equipment in production
Reducing non-hazardous waste by using grinding machines.

Environmental Care and Biodiversity Conservation (KEHATI)

Sido Muncul's Agritourism, a conservation institution that collects and conserves 268 medicinal plants and 52 species (154 animals)
Ex situ conservation for puncture vine (Tribulus), Indian screw tree (kayu ules), Javanese long pepper (cabe jawa), and cardamom (kapulaga)

Community Development

Ring 1 - Neighbouring Villages

Desa Bergas Kidul, Kecamatan Bergas, Kabupaten Semarang
Sido Muncul empowers stay-at-home housewives to produce snacks branded as Mbok Jajan. In addition, Sido Muncul also assists farmers groups and local communities through the Avocado Village Tour (Desa Wisata "Dewi" Buah Alpukat).
Desa Diwak Kecamatan Bergas
Sido Muncul empowers local communities to manage hot springs and assists farmers groups through the Durian Village Tour programme (Desa Wisata "Dewi" Durian).

Ring 2

Desa Sambirata Kecamatan Cilongok, Kabupaten Banyumas
Sido Muncul empowers farmers and youth farmers through the Spice Village (Desa Rempah) programme with cardamom as its flagship commodity.
Desa Gudang Harjo Kecamatan Paranggupito Kabupaten Wonogiri
Sido Muncul empowers farmers and housewives through the Spice Village (Desa Rempah) with Javanese long pepper as its flagship commodity.
Kecamatan Nguter, Polokarto, Tawangsari, dan Sukoharjo Kab. Sukoharjo
Sido Muncul empowers farmers in this area through the Rice Inspiration Village (Desa Inspirasi Padi, "DIPA").
Sido Muncul's Director, Irwan Hidayat expressed his gratitude to the Community Empowerment Teams for PROPER (Tim Proper Pemberdayaan Masyarakat) that enabled the Company to receive the PROPER Emas designation this year. The team members are Hadi Hartojo (Team Lead); Bambang Supartoko (Community Development Team Lead); Monika Anggun (Secretary, CDC); Nurul Ardian (Secretary, CDO); Marianingsih (Public Relations, CDO); Septiana Ami (Public Relations, CDO); PROPER Team – Natural Resources, Niken (WWTP); Diah (WWTP); Rahma (IPAL); Santi (WWTP); Dimas (WWTP); Rara (WWTP); Septa (WWTP); Iwan (SM); Wisnu (KEHATI); Tyas (KEHATI); and the IT, telecommunications, engineering, and public relation teams.
"Sido Muncul is committed to conserving the environment, particularly in the areas around Sido Muncul's plant in Semarang, Jawa Tengah. One of the ways to achieve this is by raising awareness for conservation. Sido Muncul believes that developing a business is as important as protecting the environment. If a business is successful, so does the surrounding environment. A company is considered successful if it can protect its surroundings," Irwan added.
PROPER is an annual awards programme organised by the Ministry of Environment and Forestry of the Republic of Indonesia. This programme is aimed to encourage industries actors to improve their conservation efforts and enforce compliance with environmental regulations.