On 21 October 2022 in Jakarta, PT Industri Jamu Dan Farmasi Sido Muncul Tbk. recently launched bottled Alang Sari Cool, a drink to help relieve heartburn. The launch of this product also marked Sido Muncul's entry in the ready-to-drink (RTD) beverage market.
"Sido Muncul is entering the RTD market seriously. Starting today, we will produce herbal drinks in the RTD form," said the Director of Sido Muncul, Irwan Hidayat.
Irwan stated that there is increasing demand for ready-to-drink products. As time goes on, people's lifestyle changes. According to him, modern individuals prefer convenient beverage products – no preparation required. This observation drove Sido Muncul to innovate by launching RTD beverages.
Alang Sari Cool is an herbal drink with a new, enhanced formula. It helps to relieve heartburn symptoms, such as canker sores, dry throat, chapped lips, and constipation. Its recipe combines herbal ingredients, namely cogon grass root extract, grass jelly leaf extract, and lime, whose benefits have been proven for generations. Cogon grass root extract is known to be effective to relieve heartburn, while lime helps to improve the immune system. Alang Sari Cool is a low-sugar drink that is safe to be consumed every day by both adults and children within reasonable limits, which is a maximum of 3 bottles a day.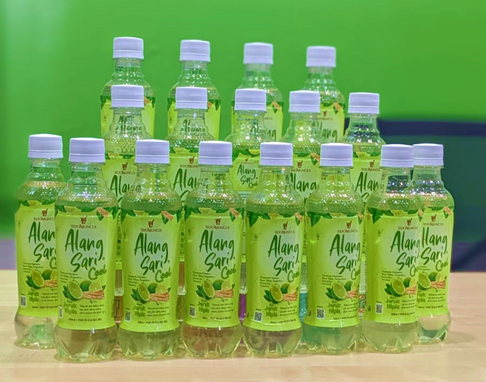 Sido Muncul hopes that the launch of ready-to-drink Alang Sari Cool can improve people's quality of life, especially those with busy activities who prefer convenient herbal drinks to relieve heartburn.
Irwan mentioned that Alang Sari Cool is currently only available in lime flavour. However, Sido Muncul will launch other variants of Alang Sari Cool RTD in the future. Sido Muncul is also planning to launch canned beverages. The product segment is currently under development and production is expected to start in early 2023. Can packaging is selected for environmental reasons. According to Irwan, packaging made from aluminium is more environmentally friendly since it can be recycled. In addition, can packaging also adds a cooling sensation to beverages when refrigerated, easy to carry, and convenient.
The national distributor for Alang Sari Cool is Indomarco Adi Prima. This product is now available in stores throughout Indonesia and can be purchased online via www.sidomunculstore.com or Sido Muncul Official Store in marketplaces such as Tokopedia, Shopee, Blibli, Bukalapak, Lazada, and JD.ID at a price of around Rp8,000.